4 DAYS DESERT TOUR FROM MARRAKECH TO FES
Marrakech Al Desierto offers you the best 4 Days Desert Tour from Marrakech to Fes to have your best experience in Morocco
4 DAYS DESERT TOUR FROMMARRAKECH TO FES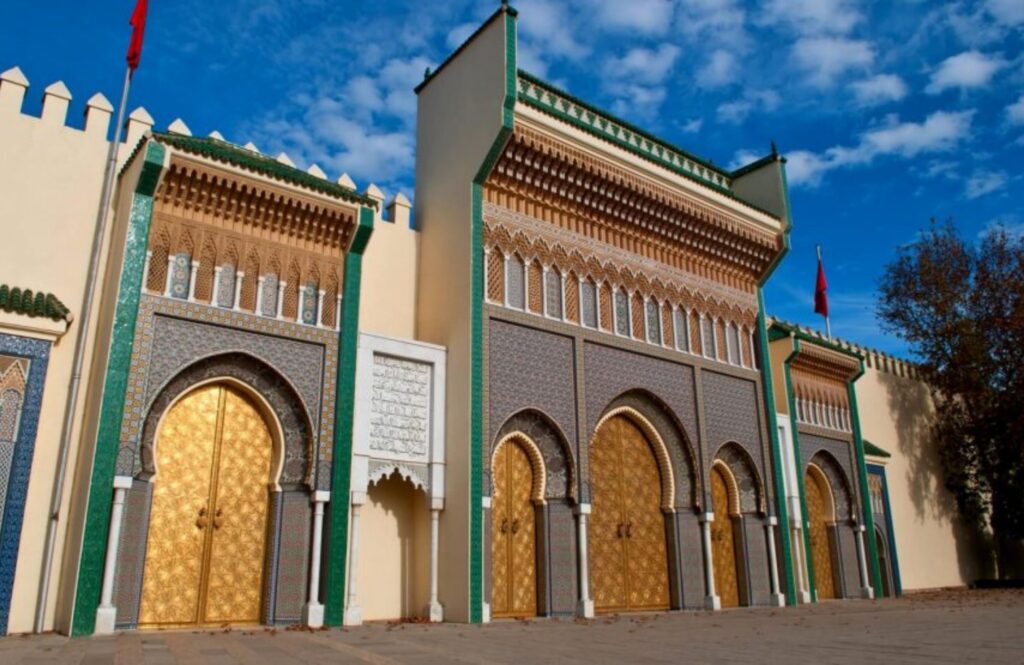 This Fantastic 4 Days Marrakech to Merzouga Desert Trip to Fes takes you on a breathtaking expedition in the southern of Morocco through the  Mountains of high Atlas with its charming Berber villages, Kasbahs, Gorge, Canyon, Palm Groves and Sahara desert (Erg Chebbi dunes) with its oasis where we will spend 2 night. ending the tour in the last day by enjoying it through middle atlas to Fes from Merzouga. 
ITINERARY OF 4 DAYS DESERT TOUR FROMMARRAKECH TO FES
Day 1 : Marrakech - Tizi n' Tichka - Ait Ben Haddou - Ouarzazate - Dades Valley
Our 4 days tour will start at 8 o'clock in the morning from Marrakech, heading towards the high atlas mountains through Tizi N'Tichka pass with stops will be made for panoramic views and taking pictures of the Berber small villages that camouflage in the landscape. Then driving south to the Ksar (fortified village) of Ait Ben Haddou the major stop of the first day, where we will visit the famous Kasbah (declared World Heritage Site by UNESCO in 1986). Famous films have been shot in this spectacular stage, including Gladiator, Obelix, The Mummy, The Jewel of the Nile, Sahara with Penélope Cruz…etc Free time for lunch in local restaurant, Then we continue to Ouarzazate also known as "The gate of the desert" that in Berber language means "noiseless or without confusion". Here we'll see the Taourirt kasbah, one of the most spectacular Ksars in Morocco. The next site to visit is the Rose Valley going through the big Skoura palm grove. In this Valley damascenes roses are raised for cosmetic use such as the valued rosewater. The Rose Festival is take place here annually in May, it is an important season for Moroccan culture. And over night in local hotel in Dades Valley.
Day 2 : Dades Valley - Todra Gorges - Erfoud - Merzouga desert and camel trek
In the second day of our 4 days tour from Marrakech to desert will started by visiting Dades gorges, taking the road of 1000 kasbahs drive around the colorful Berber villages of the Dades valley. to get to Tineghir with its beautiful palm grove. We will continue to the Gorge of Todgha , where we will enjoy walking along the canyons of about 300m high, it is preferred as the place of mountain climbers. Afterwards we will head to Erg chebbi dunes in Merzouga Sahara desert through the Erfoud town  known for its high quality dates and fossils and you will have time for lunch on our way. Once you arrive to the Dunes of Erg Chebbi, you will take a camel ride for 1 h30 min, meditation on the enchanting Sahara desert with its sunset, down to the camp in the oasis. Spending the night in the bivouac at Merzouga Sahara dunes under nomadic tents or outside under shooting stars. Enjoying Play drums with local nomads
Day 3: full day in merzouga to explore the Desert Area
Today, we will have the full day to exploring the desert area and having less-hours of driving. You'll initially learn about the unique system of irrigation known as "Khettaras" through which water is conveyed from far distances by digging a chain of wells that are interconnected with an underground channel. Drive through the village of Merzouga to the Khamlia Village. ( Gnawaa the black slaves) which is resided by a tribe who were brought as slaves from the Sub-Sahara lands and  they are known for the Gnawa Music, which they perform to the guest-visitors as a way to gain a source of income.
Have a complete tour around the sand dunefield of Erg Chebbi while including many short breaks for taking pictures. You'll visit a local nomad family so that you can learn about their unique lifestyle while sharing a mint tea with them. After lunch, you'll drive back to your hotel/Riad by the sand dunes where you can relax & chill out to get prepared for the next day's adventure.
Day 4 : Merzouga Desert - Ziz Valley - Cedar forests of Azrou - Fes
After having breakfast in your hotel/Riad or in the camp, we will head north to the spiritual city of Fes. We will include a short break in the panoramic valley of Ziz with its countless palm trees. Have lunch in Midelt before continuing through the UNESCO preserved cedar forest of Azrou. This forest hosts a colony of Barbary Apes that you can possibly meet & feed. Have a short break in the beautiful city of Ifran which known as the little Switsland of Morocco finall we'll reach Fes in the late afternoon drop you off at your hotel and ends of our 4 days tour from Marrakech to Fes ends..
FEEL FREE TO CONTACT US IF YOU NEED TO MODEFY THE TOUR FOR YOU