6 days tour from Tangier to Marrakech via Merzouga
Marrakech Al Desierto offers you the best 6 days tour from Tangier to Marrakech via Merzouga to have a best experience in Morocco
6 DAYS TOUR FROM TANGIER TO MARRAKECH VIA MERZOUGA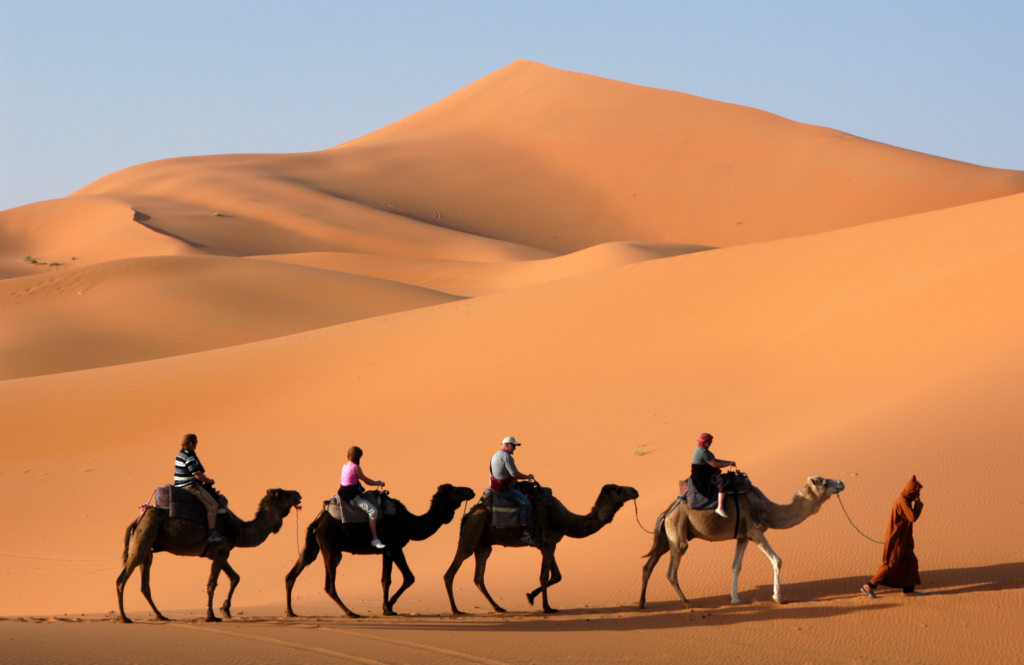 We will begin our tour in Tangier and travel to Chefchaouen (the Blue City) via traditional villages. Following that, we will visit Volubilis (Berber Roman ruins), the imperial city of Meknes, and spend a full day in Fes with a local guide. crossing through the middle Atlas via Ifrane (the Moroccan Switzerland), Azrou, cedar forest, passing through several towns, Midelt (the apple capital), Tizi N'Talghomt Pass (1907m), Valley of palm grove, Erfoud, Rissani, overnight in a berber then we will take another way to Marrakech passing through Rissani Markt, Todra gorge, Dades gorge, Ait ben Haddou arriving Marrakech A full day in Marrakech with a local guide is included.
ITINERARY OF 6 DAYS TOUR FROM TANGIER TO MARRAKECH VIA MERZOUGA
DAY 1 : TANGIER – CHEFCHAOUEN – FES
We'll drive through the Rif mountains after we meet you at the agreed-upon location. As a result, we'll stop in Tetoun to take in the scenery before continuing on to Chefchaouan. It's one of the most beautiful villages at the foot of the Rif Mountains. The medina of Chefchaouen had a Spanish-style square surrounded by many quirky arts and crafts stores, roof-top restaurants, and cafes. So, if we have time, we can stop for a short visit before continuing on our way to Fes. We'll spend the night in a traditional Moroccan riad, complete with dinner and breakfast.
We'll start the day by exploring Morocco's oldest city, snaking through its alleys and narrow streets. We'll start our tour at the Royal Palace gate, then move on to the Jewish headquarter, where the first Mellah was built in Morocco in the 16th century. We will make certain that you visit all cultural and historical sites, including the famous Al Qaraouine University, the region's oldest.
We'll also go to the Tanneries, the Attarine museum, and the Moulay Idriss mausoleum. After lunch, you'll visit a variety of cooperatives before taking in a breathtaking panoramic view of Fes' Medina before retiring for the night to your Riad.
Day 3: Fes Azrou - Midelt - Ziz Valley - Rissani - Merzouga
Today we will drive to Ifran, also known as "Switzerland in Morocco". Stop at Amazigh, a Berber village in the middle of the famous Sugi Forest. Lunch is served in Midelt, a traditional Moroccan restaurant. Then drive through the Tiji Ntalgamt Pass, along the magnificent Ziz Gorge carved into the volcanic rocks, along the magnificent Ziz Gorge, and stop halfway for panoramic views. We go through the village of Amazighs to Erfoud, then Rissani and finally to Merzouga. Here we will stay at a local hotel near the desert sand dunes.
Day 4 : Merzouga – Todra Gorge – Dades Gorge
We'll get an early start to catch the sunrise in the Merzouga desert, then return to the village on camelback. From there, we'll travel to Tinghir to see the Todra Gorge, Morocco's highest and narrowest gorge. We may stop here to hike within the valley, and after lunch, we will continue to the Dades Gorge, where we will enjoy sand castles and geological features known as "monkey toes/feet." We'll spend the night in Dades Gorge at a local hotel or riad.
Day 5 : Dades Gorge – Ouarzazate – Ait Ben Haddou – Marrakesh
After breakfast, we'll drive to Ouarzazate via the route of a thousand Kasbahs (fortresses). We'll take a break in Kalaat Mgouna (the heart of The Valley of Roses) for a stretch and lunch at a local restaurant. Then, we'll continue our private tour, stopping first at the famous Kasbah of Ait Ben Haddou before crossing the Tizi-n-Tichka pass to Marrakesh, where we'll spend the night in a local riad/hotel.
Day 6 : Marrakesh – airport
Today is determined by your flight schedule. Given the time, you could spend the afternoon exploring Marrakesh's less touristy areas and eating lunch at a local restaurant before being transferred to your hotel/airport.
FEEL FREE TO CONTACT US IF YOU NEED TO MODEFY THE TOUR FOR YOU