DAY TRIP TO OURIKA VALLEY
DAY TRIP TO OURIKA VALLEY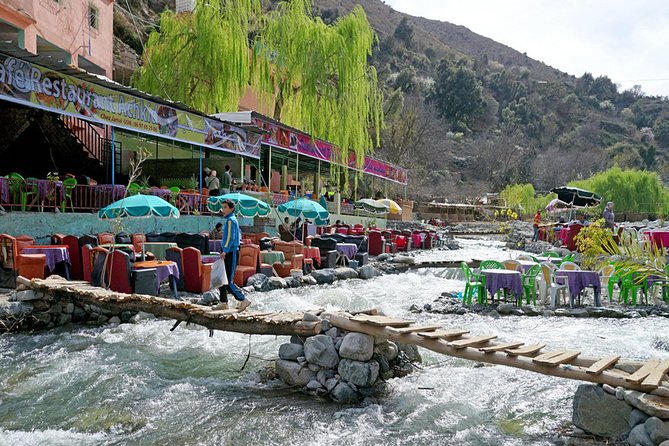 Leave Marrakech for the foothills of the High Atlas Mountains on a full-day trip from Marrakech to the Ourika Valley and Setti Fatma waterfalls, Ourika is known for its amazing waterfalls, landscapes, striking roads, and beautiful traditional villages. You will visit an herb garden to enjoy traditional mint tea, offered by the local inhabitants.
ITINERARY OF DAY TRIP TO OURIKA VALLEY
Ourika Valley is the most visited area in the high Atlas Mountains as it is only an hour far from Marrakech. Take the services of a local guide and hike to the waterfalls. The village of Arhbalou is very attractive and has a multitude of small restaurants owned by Berber families situated along the water's edge.
Our day trip will start at 9 a.m from your hotel/ Riad in Marrakech by the driver or guide, who is a English or spanish-speaking and travel in an exclusive licensed A/C vehicle. On this private escorted day trip to Ourika valley you will escape from the heat and the hustle and bustle of Marrakech and you will have a bit experience of the life of Berber families, hike around the village with a local guide (We arrange the local guide for the walk which last between 2 and 3 hours, you can shorten it or lengthen it to suit your pace and comfart) and enjoy the panoramic view of its small waterfalls surrounding by the village.
return back to Marrakech the same way we came. Arrival in the city is around 5.00 pm